Golf Tournament
The 34th Annual O'Dea Golf Tournament will be held Monday, June 15, 2020 at The Golf Club at Newcastle – China Creek. The tourney is open to everyone, 21+, not just O'Dea Alumni. Proceeds from the tournament will help fund the Edmund Rice Leadership Awards, granted for excellence in the classroom and service in the community. Recipients of these awards will be given $1,500 annually to assist with their tuition, starting their freshman year.
Congratulations to our 2019 winning foursome: Dan Nelson '11, Matt O'Brien '81, David Salle '12 and Michael McClean '12.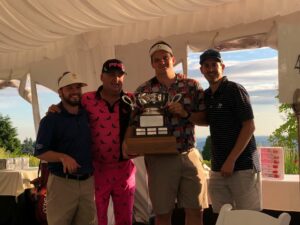 Please contact Advancement Director, Allie Thomas, at athomas@odea.org or (206) 923-7540 if you are interested in sponsoring the tournament.