Strength & Conditioning Program
The O'Dea Fighting Irish Strength & Conditioning Program focuses on the following core values:
BELIEF
Believe in yourself
Believe in your teammates
Believe in the process
Believe that you were created to be great
ACCOUNTABILITY
Take responsibility for your actions
TOUGHNESS
Be mentally and physically ready to deal with life's challenges
LEADERSHIP
Lead with passion
Lead by example
These values are enforced through a mentally and physically challenging process that encourages students to work together to develop their physical performance, confidence, self-esteem, and collaborative skills in a positive and productive atmosphere.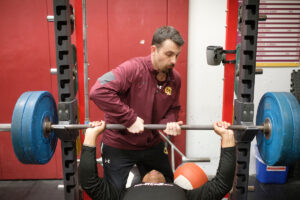 Paxton Paynter, Director of Strength & Conditioning 
Paxton has been with the Fighting Irish since 2016. Prior to coming to O'Dea he was the Strength & Conditioning Coach for Cascade High School and Lake Stevens High School. In 2015 he was also an intern for the University of Washington football team. Paxton is a Certified Strength & Conditioning Specialist (CSCS) and a member of the National High School Strength & Conditioning Association (NHSSCA).
"As iron sharpens iron, so one person sharpens another." – Proverbs 27:17