Welcome & Overview
At O'Dea we believe that Faith and Service are inextricably related. We cultivate the Faith of our students through academics and the efforts of the Campus Ministry team so that we might foster a love for God that hungers to be expressed in works of service. Our service learning opportunities open the minds and hearts of our students and enables them to put their faith into action in a meaningful way.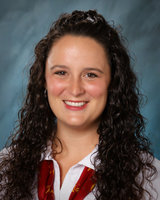 Meet our Director of Campus Ministry!
Ms. Danielle Curl is O'Dea's Director of Campus Ministry. She is passionate, deeply faithful, and professionally skilled in youth faith formation. In all of her efforts, Danielle ensures O'Dea's Campus Ministry program focuses on discipleship and Spirit-filled collaboration with faculty and staff. The results of Danielle's work in Campus Ministry are an excellent example of O'Dea's dedication and on-going efforts to connect our young men with Christ Jesus and the formation of men of strong moral character.
A Monthly Reflection from our School Chaplain – March
"My flesh and my heart may fail, but God is the strength of my heart and my portion forever."
Psalm 73:26
With each liturgical year, we celebrate the season of Lent for 40 days. It's a time where we not only give up something, but we also take time to make changes in our lives so we can grow in holiness. The three traditional pillars of Lent—prayer, fasting, and almsgiving—enable us to do this and grow closer with God. On days of fasting, including Ash Wednesday, Good Friday, and all the Fridays of Lent, we abstain from meat and limit the amount we eat. We can eat one full meal, as well as two smaller meals that together are not equal to a full meal; snacks shouldn't be eaten during this time. In addition to the Church's fast from foods, we are also called to give up "a personal food". This could range from spending less time on social media, not gossiping, etc. The purpose of fasting is that it helps us think about those who have limited access to food, it gives us the willpower to resist temptation, and it commemorates Jesus' time in the desert for 40 days. Fasting also correlates with prayer as well. By giving up certain things, it allows us to focus more on prayer therefore helping us to grow closer with God. Prayer is extremely important to any Christian's life. The Catechism of the Catholic Church (CCC) emphasizes the importance of prayer, stating, "Christian prayer is a covenant relationship between God and man in Christ. It is the action of God and man springing forth from both the Holy Spirit and ourselves, wholly directed to the Father, in union with the human will of the Son of God made man" (CCC 2564). The third pillar of Lent is almsgiving, which means giving money or goods to the poor and doing charitable acts. Almsgiving calls for us to put our faith into action and to follow Jesus' New Commandment of loving "one another as I have loved you" (John 13:30) by helping those that are suffering to find Christ's light in their lives. Some examples of almsgiving include volunteering at a soup kitchen, donating food to a food bank, giving to a charity or church, etc. As we celebrate this season of Lent, may the pillars of Lent support us on our long and rigorous journey. Amen!
Alex Duong '20
School Chaplain