Welcome & Overview
At O'Dea we believe that Faith and Service are inextricably related. We cultivate the Faith of our students through academics and the efforts of the Campus Ministry team so that we might foster a love for God that hungers to be expressed in works of service. Our service learning opportunities open the minds and hearts of our students and enables them to put their faith into action in a meaningful way.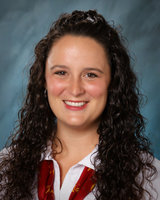 Meet our Director of Campus Ministry!
Ms. Danielle Curl is O'Dea's Director of Campus Ministry. She is passionate, deeply faithful, and professionally skilled in youth faith formation. In all of her efforts, Danielle ensures O'Dea's Campus Ministry program focuses on discipleship and Spirit-filled collaboration with faculty and staff. The results of Danielle's work in Campus Ministry are an excellent example of O'Dea's dedication and on-going efforts to connect our young men with Christ Jesus and the formation of men of strong moral character.
A Monthly Reflection from our School Chaplain
"I can do all things through Christ who strengthens me."  – Philippians 4:13
Back to school can be an overwhelming yet exciting time for students. This transition can be challenging because students have to readjust themselves to the demanding and often stressful life of school from the laid-back summer vacation. This can be especially difficult for new students, who are beginning a new year in an unfamiliar environment. Philippians 4:13 is a wonderful Bible quote to help students start off the year. It's a short yet powerful reminder of how Jesus is present in our lives and by seeking his guidance and wisdom through prayer, our resolve and confidence is strengthened. In the same way that our teachers, faculty, family, and friends are there to support and encourage us in times of difficulty, Jesus never abandons us and his work of inspiration and transformation in our lives can be found in the most unexpected places. Perhaps one of the most symbolic and modern-day examples of this is the still standing Notre Dame Cathedral in Paris, which was heavily damaged a few months ago in April by a terrible fire. The biggest effect of this wasn't the damage but rather the widespread and global support for the Cathedral around the world. In many ways, this is a physical and symbolic manifestation of how Christ is present in difficult circumstances. There are times where we are overwhelmed with new things, and at times it may engulf our confidence and happiness with self-doubt and stress, but as long as we turn to Christ and offer up our needs to him, he will redeem, restore, and strengthen us.
Alex Duong '20
School Chaplain