Welcome & Overview
At O'Dea we believe that Faith and Service are inextricably related. We cultivate the Faith of our students through academics and the efforts of the Campus Ministry team so that we might foster a love for God that hungers to be expressed in works of service. Our service learning opportunities open the minds and hearts of our students and enables them to put their faith into action in a meaningful way.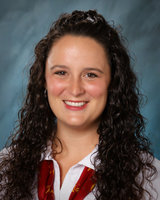 Meet our Director of Campus Ministry!
Ms. Danielle Curl is O'Dea's Director of Campus Ministry. She is passionate, deeply faithful, and professionally skilled in youth faith formation. In all of her efforts, Danielle ensures O'Dea's Campus Ministry program focuses on discipleship and Spirit-filled collaboration with faculty and staff. The results of Danielle's work in Campus Ministry are an excellent example of O'Dea's dedication and on-going efforts to connect our young men with Christ Jesus and the formation of men of strong moral character.