Welcome & Overview
At O'Dea we believe that Faith and Service are inextricably related. We cultivate the Faith of our students through academics and the efforts of the Campus Ministry team so that we might foster a love for God that hungers to be expressed in works of service. Our service learning opportunities open the minds and hearts of our students and enables them to put their faith into action in a meaningful way.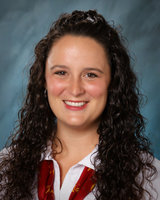 Meet our Director of Campus Ministry!
Ms. Danielle Curl is O'Dea's Director of Campus Ministry. She is passionate, deeply faithful, and professionally skilled in youth faith formation. In all of her efforts, Danielle ensures O'Dea's Campus Ministry program focuses on discipleship and Spirit-filled collaboration with faculty and staff. The results of Danielle's work in Campus Ministry are an excellent example of O'Dea's dedication and on-going efforts to connect our young men with Christ Jesus and the formation of men of strong moral character.
A Monthly Reflection from our School Chaplain
"Therefore, if anyone is in Christ, he is a new creation; old things have passed away; behold, all things have become new."
-2 Corinthians 5:17
The most common tradition around New Year's Day is to set New Year's resolutions. We reflect on the highs and lows of the year and resolve to make certain changes for the future. However sometimes thinking about the future can cause feelings of uncertainty or anxiety, due to the circumstances around us. We are constantly surrounded by seemingly endless division, war, violence, and poverty. Nevertheless, the main theme of New Year's Day and making resolutions is hope. Hope is incredibly important to our lives. It motivates us to do something, to seek love and happiness, and to find strength to pick ourselves up in times of hardship. Hope is not just about having a positive attitude but is built on the trust that God's promises will be fulfilled. The Catechism of the Catholic Church describes the true nature and meaning of hope, stating, "Hope is the theological virtue by which we desire the kingdom of heaven and eternal life as our happiness, placing our trust in Christ's promises relying not on our own strength, but on the help of the grace of the Holy Spirit" (CCC 1817). Perhaps one of the best models of hope is the Blessed Virgin Mary. When the angel Gabriel appeared to her announcing she would be the mother of God, she willingly accepted this with an open and trusting heart. Even during Christ's death, she remained hopeful and faithful in his resurrection just as he promised. As we enter the new year, may we continue to place our hope and trust in God, who is always at our side every day. Happy New Year!
Alex Duong '20
School Chaplain