Top-ranked O'Dea Moves Along in State Football Playoffs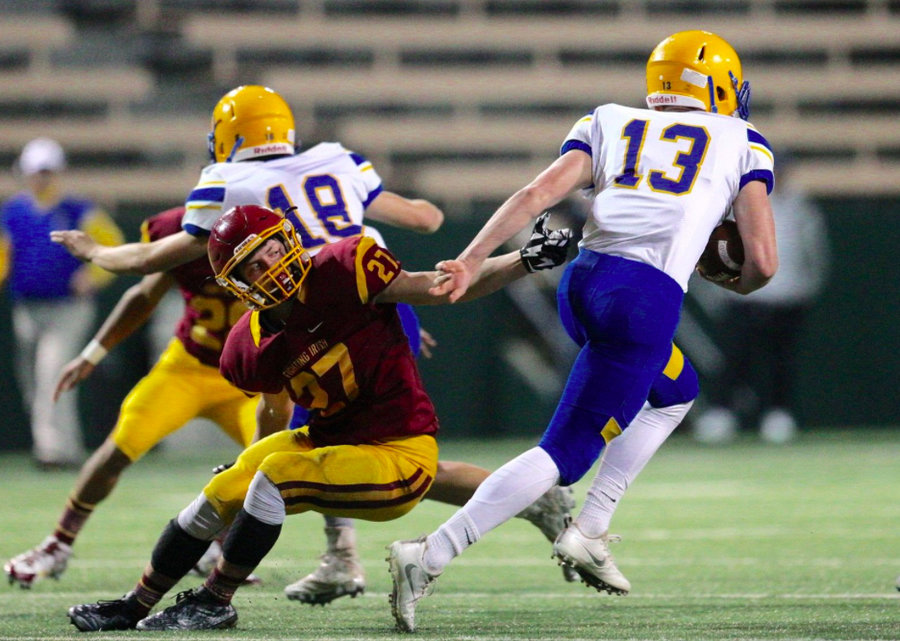 O'Dea trailed 14-0 before the Irish formed a response and left a stronger message in a 42-21 win over the Ferndale Eagles.
Article written by Jayda Evans (Seattle Times Staff Reporter) 
An ominous sign hung in O'Dea's sight all Friday night: "Not today."
Senior Doug Russell admitted he had to remind himself not to look up at the massive sign written in white block letters against a black backdrop at Memorial Stadium. It was a message for No. 1 O'Dea from No. 4 Ferndale for the opening round of the Class 3A state tournament.
As the first half progressed, it appeared it wasn't the day for O'Dea to snap a three-year skid without a tournament win. The Irish trailed 14-0 before they formed a response and left a stronger message in a 42-21 win.
"We thought we were better than we actually were in the beginning," said Russell of his team's now 11-game win streak. "We had to humble ourselves and as a senior, I didn't want this to be my last game. … Undefeated means nothing as you can see."
O'Dea advances to play Lincoln in the quarterfinals next week. The Irish opened their season with a 31-14 win against Lincoln in September.
Russell said his team will have a different focus in the rematch after Friday's struggles against Ferndale (9-2). Eagles senior Ben Broselle twice breezed through the Irish's defensive line for big touchdown runs.
Broselle's first was a 58-yard run for a 7-0 lead with 7:39 remaining in the second quarter. The second was a 38-yard score with 2:49 left in the quarter for a 14-0 lead.
After a series of failed third-down conversions, O'Dea quarterback Warren King capped a good drive with an 8-yard touchdown pass to senior Sam Sanchez to pull within 14-7 at halftime.
"We were making too many mental mistakes and came in here too overconfident," O'Dea junior Jamyn Patu said of the first half. "It was a positive environment during halftime, everybody picked each other up, and then we came out here and dominated."
Patu had a 68-yard touchdown run for the tying score (14-14) with 10:23 left in the third quarter. Senior Kyle Hollabaugh added another quick score off a fumble recovery on Ferndale's next possession, returning it 40 yards for a 21-14 lead with 9:40 left in the third quarter.
"We just made too many mistakes at critical times," Ferndale coach Jamie Plenkovich said. "I love the way our guys battled and played. Against O'Dea, you can't make mistakes like that."
The Irish grew stronger with every defensive play they had to stop Ferndale. O'Dea blocked a kick and forced another fumble in the second half. Broselle was eventually contained, too, finishing with 166 yards on 13 carries with two touchdowns.
King had a 38-yard touchdown pass to senior Quinton Lewis with 7:45 left in the final quarter that put the game out of reach (35-14).
Patu finished with 154 yards on 12 carries with two touchdowns.
"We usually don't let the props affect us," Russell said of Ferndale's sign. "We had to come out and play our game and continue to progress."
Click here to read the full article in the Seattle Times.