Reflections on World Youth Day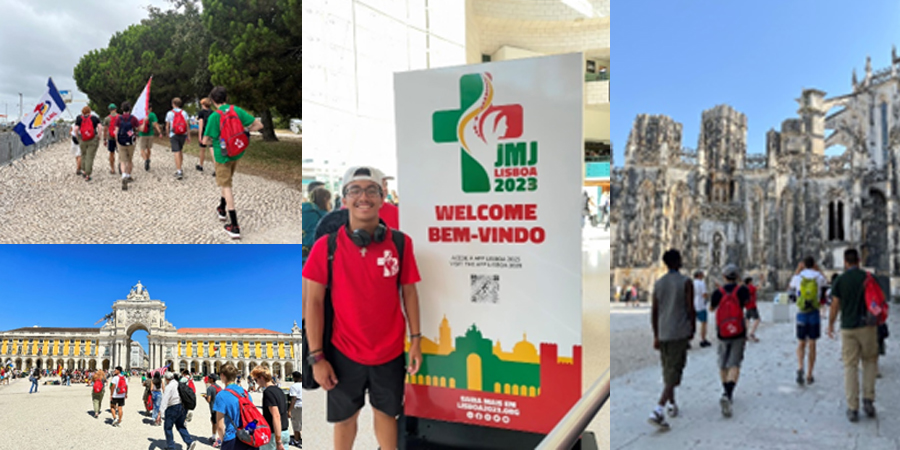 Junior Lorenzo Neri joined the Archdiocese group that attended World Youth Day in Lisbon, Portugal. Lorenzo shared his experience on the trip and what he learned!
—
This past summer, I joined a group of Youth, Young Adults, Seminarians, Staff, Deacon and Priest even Bishop of the Archdiocese of Seattle to attend the World Youth Day (WYD) at Lisbon, Portugal. It was my first time attending WYD and didn't know what to expect, who and how I would be spending my week of pilgrimage.
Before attending World Youth Day, I thought I was attending a praying event. Well, World Youth Day was not only a gathering event but unity in diversity with shared faith and journey. My participation in World Youth Day renewed my purpose.
After hearing Pope Francis speak to Pilgrims on welcoming ceremony and closing mass, it helped me view the purpose of my faith and how it would guide me on my own journey in life. WYD was an amazing trip to remember; lots of different special memories – from visiting different local and historic churches to getting to know our group members during our daily walks and special bond we built in this pilgrimage felt very special. But my best memory of World Youth Day was when I was 5 feet away from Pope Francis while he was waving to Pilgrims from his Pope mobile.
I pray that other youth get a chance to experience World Youth Day once in their lifetime. It's not only a gathering event but an opportunity to reflect and renew one's faith. I am very grateful for all the prayers, support, and generosity of our community especially to Immaculate Conception Church Seattle for introducing World Youth Day to me and my family that I was able to attend and experience this wonderful event. Special thank you to Archdiocese of Seattle for leading the group for this amazing and memorable Pilgrimage and renewal of faith.
God Bless,
Lorenzo Neri '24
Immaculate Conception Church – Altar Server