My O'Dea: Back On Campus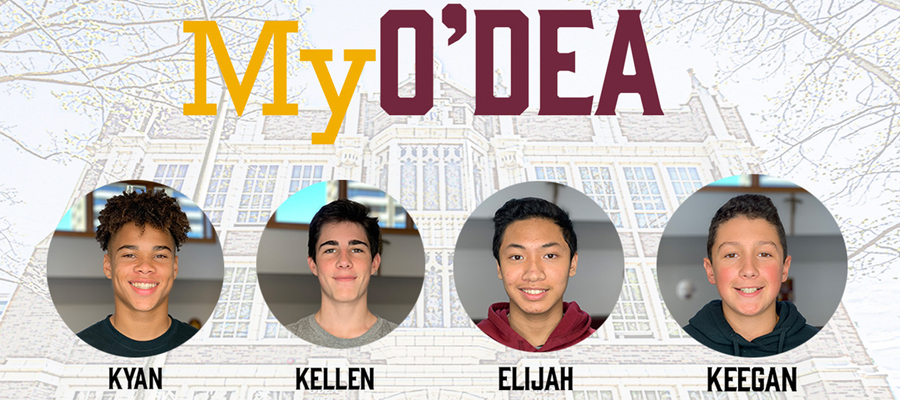 Hear from our four My O'Dea Freshman as they return to campus for in-person learning and reflect on the first half of their freshman year at O'Dea!
What is your favorite thing about your freshman year so far?
Kyan: My favorite part of school so far has been getting to know my classmates and teachers with our new hybrid learning, I feel that it is way easier to connect with them in person, face to face, rather than on a call and over the computer.
Elijah: My favorite part of school so far would probably be the new people I'm meeting and making friends with. The community is great.
What has been the biggest obstacle so far?
Keegan: The biggest obstacle for me is keeping up with homework and time management because its such a key part in saving time for yourself so you know what you can plan out for the week or maybe even more. Because in several of my class we get a couple assignments that are due throughout the week and since our classes are broken out between 2 days some assignments are due on different nights than others. That's what can also throw me off because I might think a assignment is due Monday night but then check and its actually due in that morning.
What is your favorite class and why?
Kyan: My favorite class is Digital Arts with Mr. Lara, because the work we do in his class is fun and challenging, and learning how to use Photoshop and edit videos with Adobe [Premiere] is really cool.
Keegan: My favorite classes are between Digital Arts and English… But I enjoy going to every class while on campus. Some of the photoshop assignments we have been doing in the past month have been insanely cool (Cartoon effect, Glow line effect, and glitch effect) In English right now we are reading a book about the Interment camps during WWII and I enjoy learning about history especially since we don't have a class for it and searching stuff about it online and learning about more events that occurred during then is stuff I like to learn about.
What is your favorite part of being on-campus and any differences you notice between being in-person?
Elijah: My favorite part about being on campus would definitely be seeing other people in person. I haven't really seen anyone so it's nice to see faces around me. Compared to at-home learning, being on campus requires you to be more focused then you are at home, but I think it offers a much better school experience. It's colder at school for sure!
Kellen: My favorite part of being on campus is the interactions with the teachers and students. There's more flexibility at home and I can sleep in a little later and coming to school requires more discipline, like waking up early for Strength and Conditioning Zero period.
Kyan: My favorite part of being on campus is seeing my classmates and teachers in person, the experience is way better in school than it is out.
What are you looking forward to?
Elijah: I cannot wait to be on campus every day and when the entire O'Dea Brotherhood can be together!
Keegan: I had a really great time helping out at the Class of 2025 event so it'll be fun to welcome those guys onto campus in a few months! I also cannot wait for baseball season to start. Go Irish!