Junior Year Reflections: My O'Dea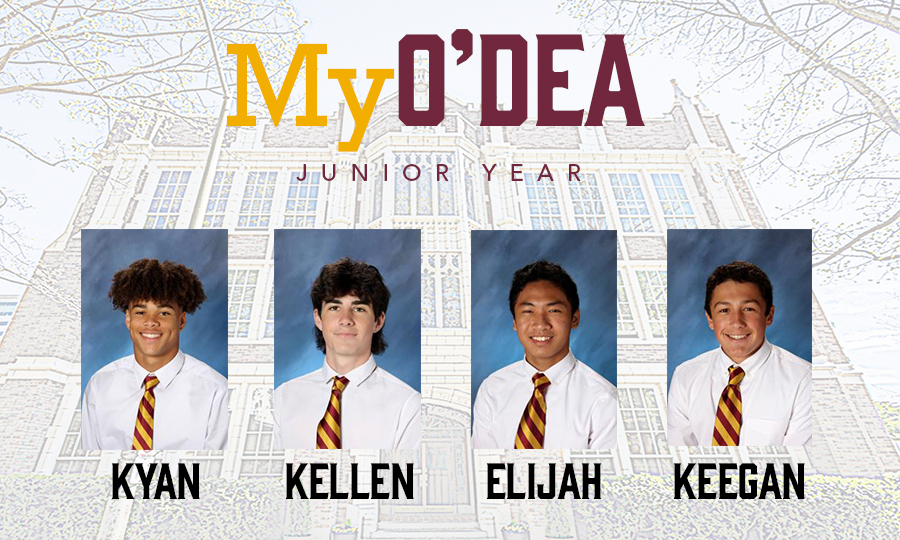 Four members of the Class of 2025 are now in their junior year at O'Dea. Keegan, Kellan, Kyan and Elijah began sharing their unique O'Dea experiences with us at Freshman orientation in 2020. Now midway through their junior year, they reflect on the year so far and hopes for the rest of their year.
How has junior year been going so far?
Elijah: I think junior year has been going great so far. Some of my favorite moments so far have been the House Flag Football tournament and the Encounter Retreat, which both were very fun.
Kyan: My junior year has been pretty good so far. My favorite classes are probably U.S. History and Personal Finance. One of my favorite moments happened at our homecoming assembly when our eSports battled it out in Mario Kart in front of the whole school and Michael got the win for Dublin. I remember everyone getting up out of their seats to cheer on their house representative like a state championship was on the line.
Keegan: My Junior year has been full of events, but I have had a great time!  My favorite class is APUSH (AP US History) as it is a great challenge for me.
How is being an upperclassman different at O'Dea?
Kellan: Being an upperclassmen at O'Dea has taught me to become a more mature student and taking ownership.
Keegan: Being an upperclassman has some definite advantages. People will listen to you more because you have experience at O'Dea. Because of this you know all the ins and outs of how to act at O'Dea and what to do in certain situations. At the same time, you must remember, people will listen to you. You have to show your best self-everyday and help out the underclassman as much as possible before it will be their time to do the same to the new classes.
What are you most looking forward to for the rest of the school year?
Keegan: With winter sports winding down, is the start of baseball season. Nothing beats playing your favorite sport, especially with the guys you go to school with. This enables you to talk about how you can be a better player and teammate while you can have fun at the same time during school.
Kyan: I am looking forward to track season, hoping to do the 100, long jump and maybe 400.
What activities have you been doing this year that have made an impact on your junior year?
Elijah: I think being a Student Ambassador has definitely had an impact on me. It's a great opportunity and I'm happy to be able to help the school. My clubs have also made an impact. I've made a lot of new friends and enjoy hanging out with them during that period.
Keegan: This fall I have been fortunate enough to travel to New Jersey to attend a Blessed Edmund Rice Christian Brother Conference. Through all these events I have learned valuable lessons. I meet other leaders from schools across the nation and even a couple coming from Uruguay and Argentina. They all shared how to help your school at building your connections with the community. Over the years I have also learned how to cooperate in a group better. Because I used to generally be an individual worker, but I've learned how to get along with the people I work with and ultimately it we can get a lot done.
Kellan: The Centennial has been super cool as a multi-generational student at O'Dea. My grandfather graduated in the 1937, along with multiple cousins and brothers who all have had high standards in academics and athletics during their high school experience. It gives me a high standard to be a part of both academically and athletically. I have my brothers and extended family members that have experienced all four years at O'Dea that can guide and help me get the best high school experience.