2023 Wall of Honor Inductees!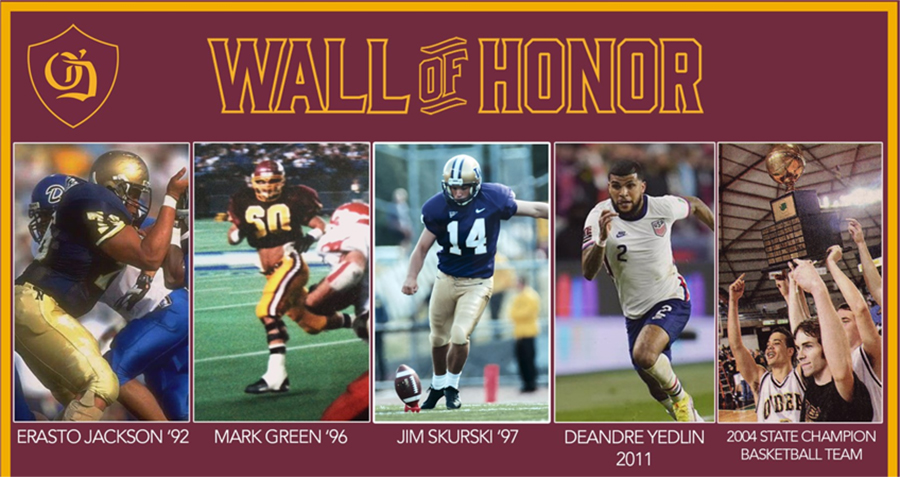 The Wall of Honor recognizes the outstanding achievements of student-athletes, coaches, administrators, and others who best exhibit excellence and integrity and have contributed to the proud athletic tradition of O'Dea High School. Join us on December 7, 2023 as we honor our 2023 inductees and raise money for a new bus. To learn more about the 2023 Wall of Honor and reserve your tickets, click here!
Learn more about our 2023 Inductees!
Erasto Jackson '92
Erasto Jackson, '92, was a three-sport athlete participating in football and wrestling, was a 2-year letterman and co-captain in football his senior year. With his defensive prowess, Jackson helped lead O'Dea to a State Championship in 1991 and named All-State and All American his senior year.
Mark Green '96
Mark Green, '96, was a three-sport athlete for the Irish, participating in football, baseball, and wrestling. He earned seven letters during his time at O'Dea and played on the 1994 and 1995 football state championship teams.

Jim Skurski '97
Jim Skurski '97 was a two-sport athlete playing both football and soccer for the Irish. During his time at O'Dea he was a 3-year letterman and co-captain in football where he played running back, defensive back, place kicker, and punter. Skurski helped lead O'Dea to back-to-back State Championships in 1994 & 1995.
DeAndre Yedlin 2011
DeAndre Yedlin, 2011, participated in football, wrestling, track, and soccer programs during his time at O'Dea. Following high school, Yedlin has played soccer at the collegiate and professional level, currently playing as a right-back for Inter Miami CF. Yedlin has represented Team US in the 2014 and 2022 FIFA World Cup Campaigns.

2004 State Champion Basketball Team
In the 2003-2004 season, the O'Dea Fighting Irish Basketball Team etched their name into the Washington State history books. With a record of 24-5, they achieved the school's third State Championship in basketball, an impressive journey culminating in a thrilling double-overtime victory over Rainier Beach, a team ranked #14 nationally by USA Today, with a score of 68-64.