Welcome & Overview
At O'Dea we believe that Faith and Service are inextricably related. We cultivate the Faith of our students through academics and the efforts of the Campus Ministry team so that we might foster a love for God that hungers to be expressed in works of service. Our service learning opportunities open the minds and hearts of our students and enables them to put their faith into action in a meaningful way.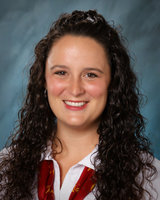 Meet our Director of Campus Ministry!
Ms. Danielle Curl is O'Dea's Director of Campus Ministry. She is passionate, deeply faithful, and professionally skilled in youth faith formation. In all of her efforts, Danielle ensures O'Dea's Campus Ministry program focuses on discipleship and Spirit-filled collaboration with faculty and staff. The results of Danielle's work in Campus Ministry are an excellent example of O'Dea's dedication and on-going efforts to connect our young men with Christ Jesus and the formation of men of strong moral character.
A Monthly Reflection from our School Chaplain
"If I rise on the wings of dawn, if I settle on the far side of the sea, even there your hand will guide me, your right hand will hold me fast."
  -Psalm 139:9-10
              Heart of a Samurai by Margi Preus is one of my all-time favorite books I read in middle school. It's about a young Japanese fisherman named Nakahama Manjiro whose dreams of becoming a samurai during feudal Japan are fulfilled in the most unlikely way. He achieves this not by the traditional way, which is through familial inheritance, but through his journey in America, a land completely unknown to him due to Japan's isolationism at the time. He met so many new people and learned so much about America's culture during his journey that it played a pivotal role in achieving his dream when he returned to Japan. His vast knowledge of the world and the English language did more than just earn him the title of samurai later in his life. His influence was so tremendous that it opened Japan up to the rest of the world in the 19th century and beyond. Manjiro's story is one that we encounter many times in our lives. We have dreams and aspirations, yet we find ourselves fulfilling them on a path that is not only unbeknownst to us but reveals more about us than our original path could. When I first started at O'Dea, my only focus was earning good grades and merely getting my four years at O'Dea over with. My mindset was so fixated on my academics and getting through high school, I never gave any thought to how I was going to grow as a person over time. As four years passed by, one thing became apparent to me: I am much more than just an academically-sound student – I am a strong, spiritual leader who desires nothing but to infuse the love and message of Christ into the community I love. If I had kept the same mindset from the beginning of my freshmen year, I would have never gotten to where I am at today. This is an important lesson for all us, especially for my fellow Class of 2020 brothers. As we journey through life, may we open our eyes to the world around us. Though the path we take to our dreams may not be the one we imagined taking, may the spirit of God guide and give us the wisdom to follow it.
Alex Duong '20
School Chaplain